Tuka Tuka 2019 has been cancelled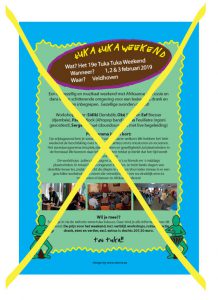 Dear all,
We have some bad news. Due to too few timely registrations we have decided to cancel the upcoming edition of the Tuka Tuka Weekend. The accommodation, teachers, crew and people who did register have been informed.
We would like to thank our Tuka family for all your wonderful reactions and attempts to promote our event. You are fantastic! Hopefully we be back the year and therefore we will close of for now by saying…
Til Tuka!