Doundoun dance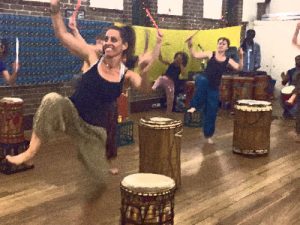 African dance is always very energetic. Can you imagine what happens when you add douns (or duns) to the equation. Not just the one, but one for each dancer… It would be fireworks for sure! And that is exactly what we are going to create during our doundoun dance workshop, fireworks.
For this workshop you will need a doundoun (duh!). One of these big African bassdrums. Not a sanbang, not a kenkeni, but a nice big doundoun. Otherwise you will be bending all the time. Preferably you will bring this drum yourself, but should this be a problem, not a problem. You can rent one with us for € 12,50. Just let us know when you fill in the registration form.
Of course we will have excellent live band to do dance accompaniment, as usual.