Daan Verbaan's musical biography
The early years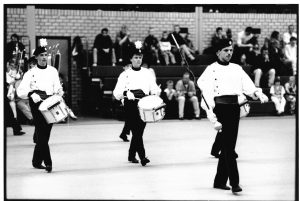 Daan Verbaan was caught by the sound of drums at an early age. Only five years old he was obsessed by the drummer of the band that his father played in. He had to wait a little until he got to sit behind them himself, though. He first went through General Musical Development after school time and after finishing that course it was time to choose an instrument. Not surprisingly he wanted to learn how to play the drums, but his parents preferred the piano, because they were afraid the drums would be too noisy. Be it with some reluctance, he played the piano for years.
Around his thirteenth year, Daan and his parents visited acquaintances whose son, Ramon, played the drums. His parents saw that a drum kit in the house was doable and finally accepted the fact that Daan did not take to the piano and was really enthusiastic about the drums. He was allowed to go to Music School Krimpen aan den IJssel. Ramon had just started his lessons, so they ended up taking their classes together. They hit it off right away and the next five years they practically met up every day to bang those drums.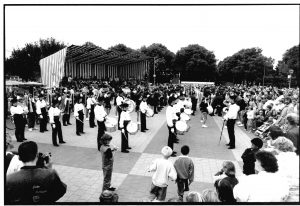 Around the same time Daan joined the Kunst & Strijd drum band, a local ambitious group. In the years that followed his life was all about the music. At first it was just the drum classes and the drum band, but soon the concert band of Kunst & Strijd, the music school's percussion group and extra Saturday drum classes by Jan Schipper followed. If that wasn't enough, he joined his buddy Ramon for extra sessions as well. They were there so often, they actually had the key to the school, so they had the use of the percussion classroom whenever it was empty.
With the different groups Daan regularly performed and competed in numerous competitions and contests, often very successfully so. In 1990 he started teaching percussion himself to the drum band members. He was trained to be a tambour maître by Martien Slingerland and made his debut on Queen's Day 1991. He led his band through a competition later that year and right away won a first price. During that year Daan also had a large role in the organisation of a large play inn to celebrate Kunst & Strijd's anniversary.
The discovery of world percussion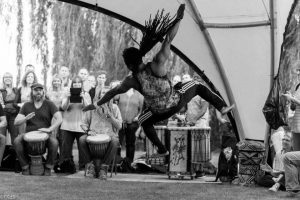 His percussion teacher Frans Leerdam had in the meantime become infatuated with African percussion. Frans played in the famous Slagwerkgroep Den Haag and that band had a tight connection to Ali N'Diaye Rose and several other grand masters of the day. As a result, Frans brought African drumming to his pupils. He taught them to drum Ghanese style (big drums and sticks) and then on to djembe, amadinda and balafon. Daan caught the fever right away, started studying African percussion, which he hasn't stopped till this very day.
In the meantime Daan also explored the realms of contemporary electronic music. With some good friends he started Washmashien Total Loss, in which they experimented with electronic body music, synthesizers, sequencers, electronic drums, computer and whatever they could get their hands on.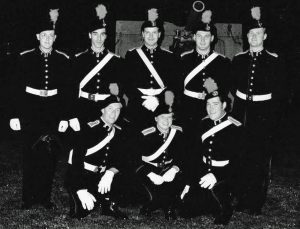 In 1992 Daan had to serve his military service in the Dutch Army. Luckily, the army had good use for his talents and he ended up in the Military Marching Band of the Dutch Engineers Regiment, a well-known and tightly orchestrated brass band. He had a blast, rehearsing daily and performing at ceremonies, tattoos and shows three times a week on average. He even considered staying on after the obligatory service was up, but decided to attend the University of Tilburg instead.
During his college days he focussed on his classes mostly. In his spare time he played in several local bands.
From 1999 he dove right back into the world music again. It started with an inspirational visit to his old teacher Frans, who had moved to France by then. From that moment on on it was percussion in general and African percussion in particular day in day out. He professionalised what he had built in his early years and keeps on perfecting and broadening his knowledge of and skill with drums, African percussion instruments and conga's through weekly classes, workshops, etcetera.
Amongst the teachers he studied with are:
Babara Bangoura
Mamady Keita
Arafan Touré
Souleymane Camara
Oké Sene
Sega Sidibe
Ousmane Seye
Ibou Niang
Kaloga Traoré
Dembele Sidiki
Louis Cesar Ewande
Mestre Jorge Martin
Frans Leerdam
Michiel Moerkerk
Paulus Kock
Among the instruments he plays are:
Drums
Marching drum
Djembe
Dununs, both Mali and Dununsaba style
Conga
Various Brazilian percussion instruments, like snare drum, surdo, repenique, timba, etcetera
Anything that can create a pulse and a rhythm
Passionate about bringing percussion to people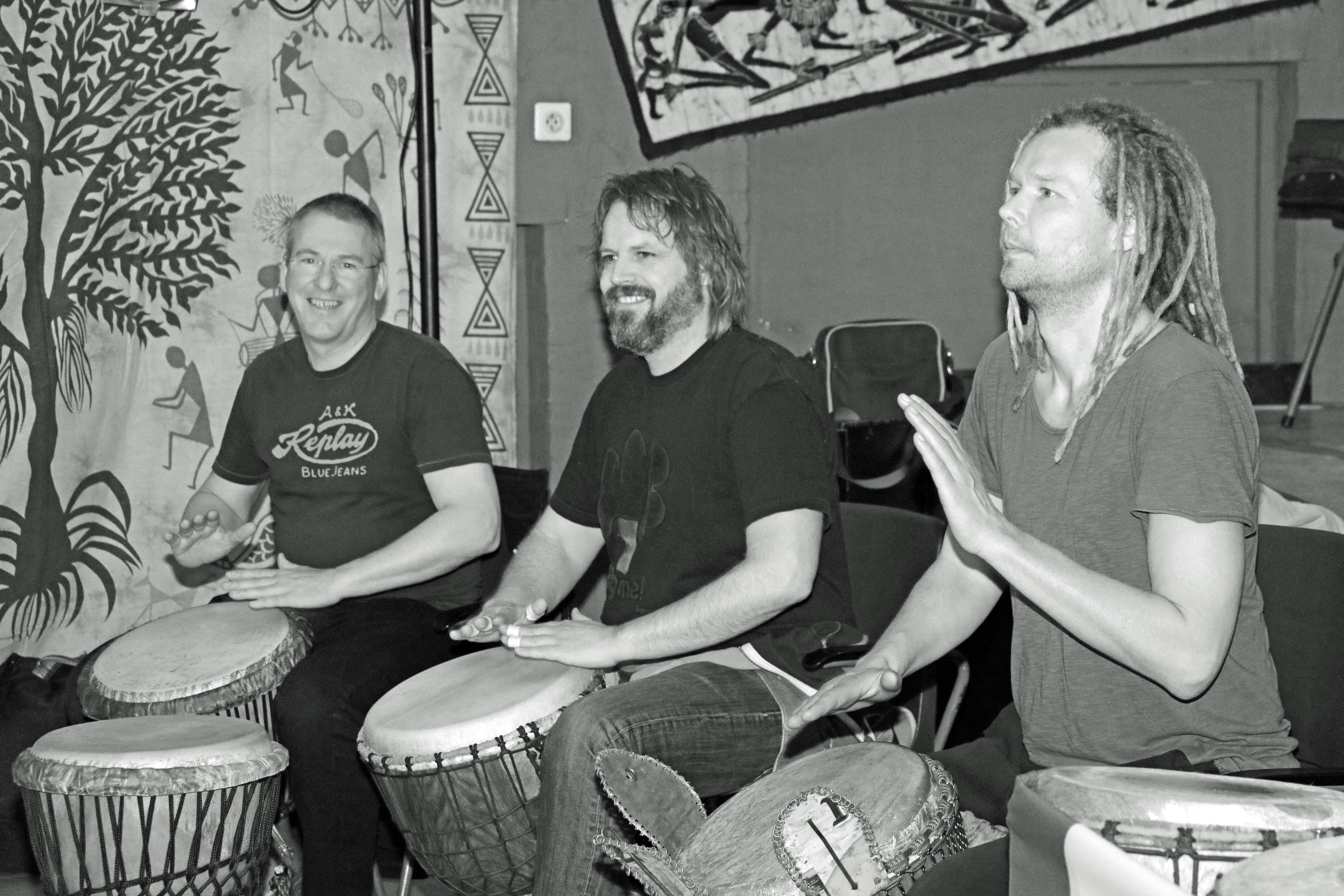 Daan has organised one of the best known African percussion and dance weekends in the Netherlands since 2000, Tuka Tuka. The last couple of years Tuka has drawn people from as far awar as Hongkong. For the last ten years Daan has been doing the dance accompaniment during the weekend. He loves doing that, the technique, speed and ability to interact with the dancers that it takes.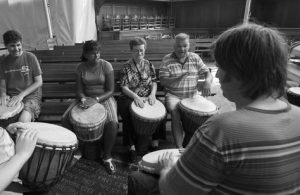 He has been teaching classes since 2002, mostly djembe, regular classes but also special needs classes. Daan is a licensed economics (secondary school) teacher and employs these teaching skills in his drum classes as well.
In 2014 Daan first came to Ireland. Two former Tuka Tuka participants had moved there and through them he quickly integrated into the local music scene. He straight away started participating in Different Skins, a Tralee based African music group. Since he settled in Ireland on a more permanent basis, he also started teaching the group. From 2015 he has been involved in Samba Cuisle, a Tralee based Samba group. Through the years he participated in numerous parades, festivals and performances on his own, with both bands, others and members of his own family who play percussion as well.
As said, Daan loves to accompany African dance. He has been doing the dance accompaniment for Tuka Tuka since 2007, he also played for dance classes in Dordrecht, Rotterdam, Bergen op Zoom and the Afrokick Festival in Mijnsheerenland. Since 2015 he has been doing the dance accompaniment for the Dingle Global Rhythm Festival and from 2017 onwards he has been actively involved in its organisation. In Ireland he has worked with Martin Schaerer of Percussion workshop Dingle, Urs Wenk of Drum Dance Ireland and many more. He has also participated in community projects, like Welcoming the Stranger (under the direction of well-known choreographer Catherine Young) which was performed in theatres all over Ireland en abroad.