Tuka Tuka Workshop Weekend
Workshopweekend African Music and Dance, 7, 8 and 9 February 2020 in Veldhoven, the Netherlands

Tuka Tuka 2020 in a bird's-eye view: an all-inclusive African music weekend. Several workshops:  djembe, ngoni, dundun, balafon, singing, afropop and dance. Fun nights with music, drinks and good company. Fee € 139,– including accommodation, breakfast/lunch/dinner on Saturday, breakfast/lunch on Sunday and all drinks during the weekend (coffee and tea during the day and a selection of juices, sodas and alcoholic beverages during the festivities), excluding extra's if required, like instrument rental and linen.
We proudly present…. *drumroll* ….. the 19th edition of the Tuka Tuka Weekend! This year we will be in Veldhoven where the wonderful domain of the Buitenjan can be found. This former monastery – where we hosted Tuka Tuka several times already – has everything we could wish for and is located in a beautiful wooded area. Another plus, this location is less than half an hour away from Eindhoven Airport for all of you who are flying in.
Tuka Tuka African Weekend new style
This year, we'll be doing things completely different! Different in a way that suits how we view the world and enables us to make this world a little bit better. The best feedback we've got from our visitors over the years has been about the Tuka Tuka feeling. That coming to the Tuka Tuka weekend felt like a warm hug. 'Our Tuka family' they would call us. We felt and feel that's the biggest compliment anyone could ever give us. But we also heard that coming to our weekend wasn't doable for everyone, financially. And that news, we liked less.
African workshop weekend with donation system
That's why we have decided to radically change the Tuka concept and make reachable for more people. To achieve that we are going to use a donation system. That means that Tuka visitors will pay a basic amount for being at the weekend. This amount is fixed because they cover the costs that we have to pay for your accommodation, food and stuff, There's no avoiding that one. For that amount every paying visitor can stay with us over the weekend and make and/or listen to music. As usual, we have several spaces at our disposal. Some of those will be reserved for workshops and some for people who want to make music together. The latter will be divided into categories, so the louder instruments will not drown out the softer ones.
So this year you can chose to do several different things. You could, for instance, enter both a ngoni and a balafon workshop and also jam with your fellow Tuka visitors or go for a walk part of the day. Please note that you're to register for some of the workshops beforehand. You can do this the registration form.
Workshops by renowned teachers
In the spaces reserved for workshops, renowned teacher will be offering musical workshops. The teachers involved are entering into this adventure with us and will not get paid for their effort. It's up to those who enter the workshops to remunerate them and thus show their appreciation. The idea behind this is that those with the larger means will pay a bit more and those who have lesser funds, give what they can. This way, the workshops will be affordable for more people and it will be fairer. In each workshop space there will be a bucket or pot in which you can put your contribution. You can register for more than one type of workshop and therefore do different things over the weekend.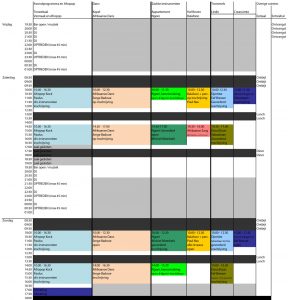 Tuka Tuka Afrikan musical weekend also open to guests
What is also new this year, is that Tuka Tuka 2020 is open to guests of our participants who do not want to enter workshops or jam sessions, but just want to have a fun weekend with African influences. Many spaces will therefore be open to an audience. Our location also offers splendid walking opportunities and is close to the wonderful city of Eindhoven. So, if you just want to have a nice weekend with fun people in an exciting environment, you are very welcome to join us. If you've always wanted to bring, for instance, your partner or sister, now is your chance.
Even our famous Tuka nights will be interactive
And just when you thought it wouldn't get any better, there's more… During the Friday and Saturday night timeslots will be available for you to show all of us what you can do, as long as it's related to African or world music. It has to fit the weekend. If you (and your group) want to fill a slot, please get in touch with us. When there are no performances, we will play music that will also be interactive as much as possible.
In short, it will be a weekend for Tuka visitors by Tuka visitors! We are really looking forward to and hope to see as many of you as possible. Want to help us? Please share the existence of this weekend with as many people as possible. Share it on social media, via e-mail or just plain word of mouth. Thanks a lot in advance
Register right away?
If you want to register right away, please click the button below (but don't forget to read to rest too!)
For those who want some more information first, or just want to get into the mood, the weekend entails the following:
Workshops with renowned teachers, about whom you can read more on the Teachers-page. Just click on a head and you'll find more information. There are also two party nights on which drinks and knibbles are on the house. We have a fine selection of refreshments and music at hand for these nights.
What can you expect from us:
A wonderfull accommodation in the woods on the outskirts of Veldhoven, the Netherlands. Also great for these winterwalks in between workshops.
A wide variety of workshops by renowned teachers
Two fun nights with good music and maybe even some jamming fun.
A comfortable bed in group accommodation De Buitenjan. You can either bring your own bedding (also your duvet, blankets or sleeping bag, cos those are only available at the accommodation for those that rent bedlinnen) or rent it (blankets and bedlinnen) for € 7,50 per person.
Included are breakfast/lunch/diner on Saturday, breakfast/lunch on Sunday and all drinks during the weekend (coffee and tea during the day and a selection of juices, sodas and alcoholic beverages during the festivities)
What do we expect from you:
That you register as soon as possible. Your place in the workshop is reserved as soon as you have transferred the fee of € 139,– per person + any extra's that you have booked to our account. You have 2 weeks to do this.
A refund is possible until 30 November 2019. We will in that case deduct € 35 administrative costs. After 30 November 2019 we cannot refund any fees.
That you will bring you own instrument. If you cannot bring your own, you can hire one from us. Please indicate this on the registration form. Extra Douns or other instruments for support and entertainment are welcome, of course.
That you will bring a good mood and will have a great time. We know we will!
Skip back to main navigation