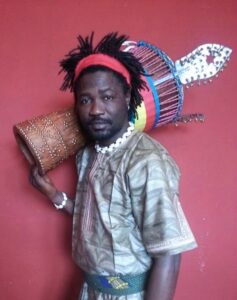 Douba Dembele grew up in West Africa in a very musical family. He started as a very small boy learning to play various instruments such as djembé, N'goni, Douns and Bara.
Douba Dembele: musical chameleon
Music is Douba Dembele's life. He travelled with his djembé through different countries: Ivory Coast, Togo, Senegal, Burkina Faso. He learned in each country all the styles of music that were native to that country. The slightly different musical tradition in every area gave Douba a lot of inspiration which he brought with him wherever he went.
Douba Dembele is very broadly trained and plays with all of his heart and soul. His speciality is the Malian style. He creates and builds his own instruments and is the bandleader of the Belgian group 'Toungarangue' (Afro-blues-jazz). He also gives workshops and lessons at the Netherlands and abroad. With Douba in the house you are sure of a musical party!